Mikaela Spielberg, an adult film actress and daughter to film director Steven Spielberg, who was arrested in late February on domestic violence charges stemming from an alleged incident that involved her then-fiancé Chuck Penkow, is trying to reinstate her good name after a Nashville, Tenn. court dropped all charges against her.
Howard Gentry Criminal Court records accessed by Fox News indicate the 24-year-old's misdemeanor domestic violence case was dismissed on Sept. 1 and has since been designated as closed – an outcome Spielberg said was the only option given her initial claim that she phoned police out of fear for her own safety and was subsequently arrested and booked into the Metro jail on Feb. 29.
"I feel that dropping the case was exactly right, which is to start to engage in restorative justice," Spielberg told Fox News in an interview on Thursday. "I just want to feel safe again. I was innocent."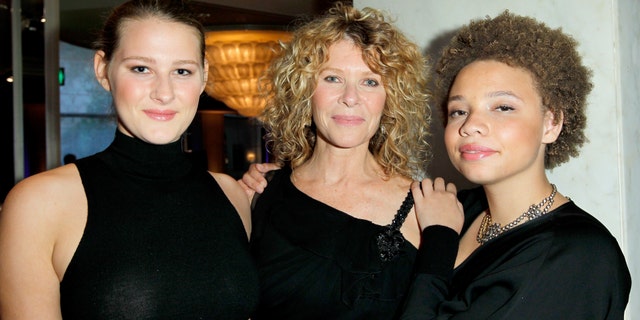 At the time of the alleged incident involving Penkow, a 47-year-old professional darts thrower, Spielberg was hit with the misdemeanor charge despite Penkow going on record to Fox News that her arrest was nothing more than a miscommunication with officers at the scene.
She was released on a $1,000 bond after spending 12 hours in police custody and told The Sun at the time that she felt "heartbroken" and "betrayed" because she called for medical assistance – though she believed officers were simply following procedures.
Spielberg, who turned 24 just days after she was charged, maintained her innocence to Fox News and said she simply hopes to put the ordeal behind her following the court date that resulted in all charges against her being dropped.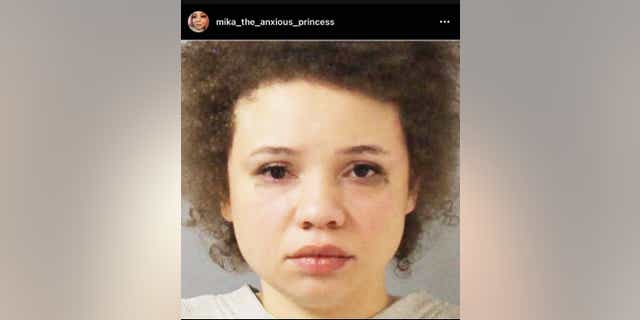 "I'm not bitter about it. I'm traumatized," she lamented. "I feel like the frequency of which I was checked on during that time period was not enough. I feel like my community didn't reach out enough to ask me what was going on. I'm deeply, deeply concerned, fearful and traumatized now that this is over."
Furthermore, she expressed deep gratitude for her attorney's diligent work on the case.
"I feel better that the state was willing to meet me halfway and use restorative justice in this situation," said Spielberg. "I'm not a malicious person or a person looking to do evil when I step into the world."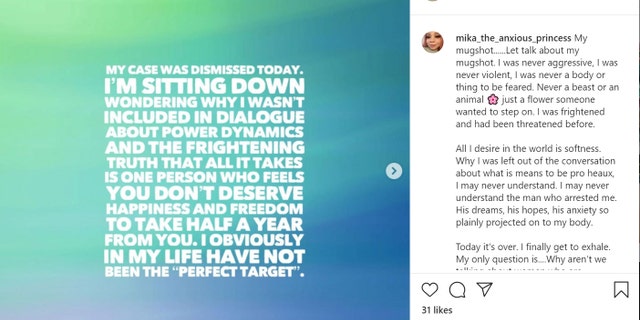 Added the digital performer: "When can we start to see the people that we rope into the justice system as real humans? At the end of the day, I'm a whole person."
Spielberg addressed the case in an emotional social media post on Tuesday.
"My mugshot……Let talk about my mugshot. I was never aggressive, I was never violent, I was never a body or thing to be feared. Never a beast or an animal just a flower someone wanted to step on," she wrote in the lengthy note. "I was frightened and had been threatened before."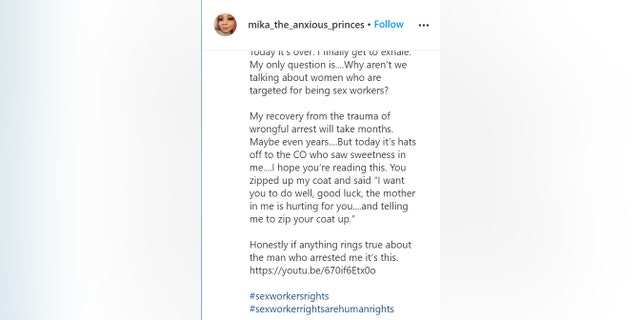 "All I desire in the world is softness. Why I was left out of the conversation about what iy means to be pro heaux, I may never understand. I may never understand the man who arrested me. His dreams, his hopes, his anxiety so plainly projected on to my body," she continued.
"Today it's over. I finally get to exhale. My only question is….Why aren't we talking about women who are targeted for being sex workers? My recovery from the trauma of wrongful arrest will take months. Maybe even years….But today it's hats off to the CO who saw sweetness in me….I hope you're reading this. You zipped up my coat and said "I want you to do well, good luck, the mother in me is hurting for you….and telling me to zip your coat up."
The dismissal of charges against Spielberg was first reported by The Sun.