Gwen Stefani and Blake Shelton have captured fans' hearts with their love story.
The "No Doubt" singer opened up about what the country star is really like behind closed doors and how he's completely changed her life. 
"I've never met someone that's just so interesting," she gushed while speaking with Apple Music's Zane Lowe. "Because you think he's so, so normal, but then he is quirky and he is — he is an artist. But he has a lot of different sides to him. But I think the fact that he really could walk away from anything at any moment."
The couple announced their engagement in October after five years of dating. What Stefani, 51, appreciates most is that Shelton, 44, is so laid back and prefers to just hang out on his farm in Oklahoma rather than lead a stereotypical glamorous celeb lifestyle. 
GWEN STEFANI REVEALS HER WISHES FOR WEDDING TO BLAKE SHELTON
"His true love is just of nature and of just being at that ranch," Stefani described. "And he loves animals, and he knows every single name of every salamander and every tree and every bush and snake. And it's like, how do you know all this stuff? He's just always been the same. He's the same guy no matter where he goes."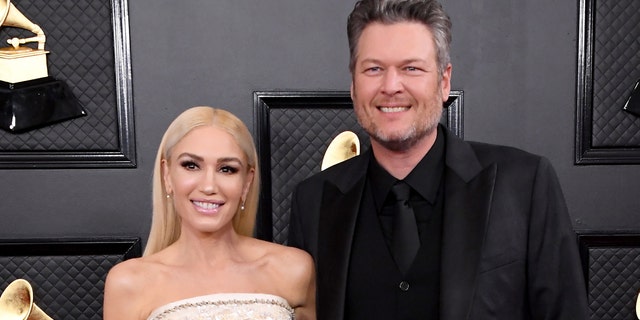 She revealed that their bond has deepened over the years because he's her best friend.
"We tell each other everything," Stefani said. "I don't want to do anything without him. He's my homie. And he's just a very generous, generous guy. He's full of love and generosity. And like you said, he's a smart, smart guy as well. So you feel safe, you could lean on him and trust him. And I could just keep going." 
BLAKE SHELTON REVEALS HE HID GWEN STEFANI'S ENGAGEMENT RING IN HIS TRUCK FOR 'ABOUT A WEEK'
The "Sweet Escape" singer said even her parents pick up on the connection between the two of them. 
"When my dad and mom come over, they get to see that, or you get to see that," she explained. "You know what I mean? And there's just something great about someone that's so genuine and then super talented, because then you watch him sing and you're just like, 'My God, your voice.'"
CLICK HERE TO GET THE FOX NEWS APP
Stefani shares three kids — sons Kingston, 14, Zuma, 12, and Apollo, 6 — with her ex-husband Gavin Rossdale. Meanwhile, Shelton has no kids of his own but has grown close to Stefani's children.